Available wherever books are sold.
Peacekeeper's Daughter, a Middle East memoir, (Thistledown Press, 2021)
Finalist for Quebec Writers' Federation (QWF) Mavis Gallant Nonfiction Award.
Included in the 2021 CBC Non-Fiction Preview List. View the whole list here.
Read the opinion article "As a peacekeeper's daughter I learned the power of words over weapons" in the Toronto Star.
Available now: Chaos Theories of Goodness – my debut poetry collection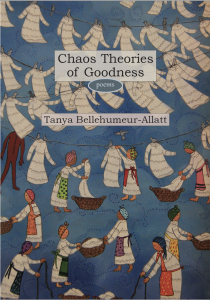 Click here to learn more details
Available Now
Chronicling the Days: Dispatches From a Pandemic,  published by Guernica Editions,  
The eleventh installment of Canada's annual volume of essays showcases diverse nonfiction writing from across the country. Culled from leading Canadian magazines and journals, Best Canadian Essays 2019 contains award-winning and award-nominated nonfiction articles that are topical and engaging and have their finger on the pulse of our contemporary psyches.
Praise for Best Canadian Essays
"Fascinating, provocative, sobering and painful… an abundance of artfully expressed ideas."
—Toronto Star